#TheResusTEEWorkshop EUROPE
Workshop on Resuscitative Transesophageal Echocardiography
(TEE = TOE)
The first practical course dedicated to the practice of resuscitative TOE
DESPITE GROWING INTEREST AMONG EMERGENCY PHYSICIANS AND INTENSIVISTS, AN IMPORTANT BARRIER TO ADOPTION IS ACCESS TO TRAINING THAT IS TAILORED TO THE PRACTICE OF RESUSCITATIVE TOE.
THE TEAM OF CLINICIANS BEHIND THE RESUSCITATIVE TEE PROJECT, A MULTIDISCIPLINARY GROUP OF FACULTY WHO HAVE PIONEERED THE DEVELOPMENT OF THIS APPLICATION AND ACCUMULATED VAST TEACHING EXPERIENCE, HAVE DEVELOPED THE FIRST STATE-OF-THE-ART PRACTICAL COURSE ON RESUSCITATIVE TOE.
THROUGH THIS WORKSHOP, WE PROVIDE EMERGENCY PHYSICIANS AND INTENSIVISTS, WITH A UNIQUE OPPORTUNITY TO GAIN BASIC TRAINING IN THIS EMERGING MODALITY.
the resuscitative tee workshop is proudly powered by heartworks' eve bodyworks system by intelligent ultrasound
COURSE DESCRIPTION & DETAILS
The Format
THE COURSE CONSISTS OF ASYNCHRONOUS LEARNING (PRE WORKSHOP) AND ONE LIVE DIDACTIC SESSION (THE WORKSHOP). SELECTED MATERIAL FOR SELF-STUDY INCLUDING A TEMPORARY LICENSE TO THE HEARTWORKS E-LEARN PLATFORM ARE PROVIDED IN ADVANCE. DURING THE ONE-DAY "DEEP DIVE" WORKSHOP, PARTICIPANTS RECEIVE DIDACTICS AND HANDS-ON TRAINING ON HIGH-FIDELITY SIMULATORS.
1:1 Competency Assessment
optional, hands-on examination at the end of the workshop
An optional, hands-on examination to allow participants demonstrate skill acquisition and competency in focused TEE examination will be available AT THE END OF THE WORKSHOP. THIS IS A 1:1 evaluation by one of the faculty and will test the both motor and cognitive competency participants.
This optional assessment can be particularly useful for physicians leading the development of TEE programs at their institutions. Participants who choose to take the assessment, will be provided a competency checklist with log of 10 examinations if successfully performed.
SPECIFIC GOALS: through the review of pre-workshop resources and the didactics held during the one-day workshop, we aim to provide participants with the following skills:
MOTOR SKILLS:
Probe insertion

Image acquisition
COGNITIVE SKILLS
Understand principles of TEE operation: Transducer controls and understanding of different planes of movement necessary to generate images: anteflexion, retroflexion, rotation.

Relevant cardiac anatomy

Rationale and evidence for a focused TEE protocol

Indications / applications for each view

Middle esophageal four chamber (ME 4C)

Transgastric mid short axis (TG Mid SAX)

Middle esophageal long axis (ME LAX)

Middle esophageal bicaval (ME Bicaval)

descending thoracic aorta (dta lax and sax)

Image interpretation:

Identification of normal anatomy in all four basic views

Correlation with anatomy in TTE views

Identification of basic pathological conditions
At the end of the workshop, participants will be able to: acquire the focused TEE views and correctly identify cardiac anatomy and identify basic pathological conditions.
EDUCATIONAL MATERIALS:
A set of pre-workshop web-based and interactive materials will be made available for self-study of participants prior to their attendance to the workshop. Brief (15-20 min) case-based lectures will be presented during the workshop.
COURSE VENUE
do you hate those courses in a classroom or the basement of the hospital? we hate them too. The resuscitative tee workshop is held in hand picked, state-of-the-art interactive learning facilities.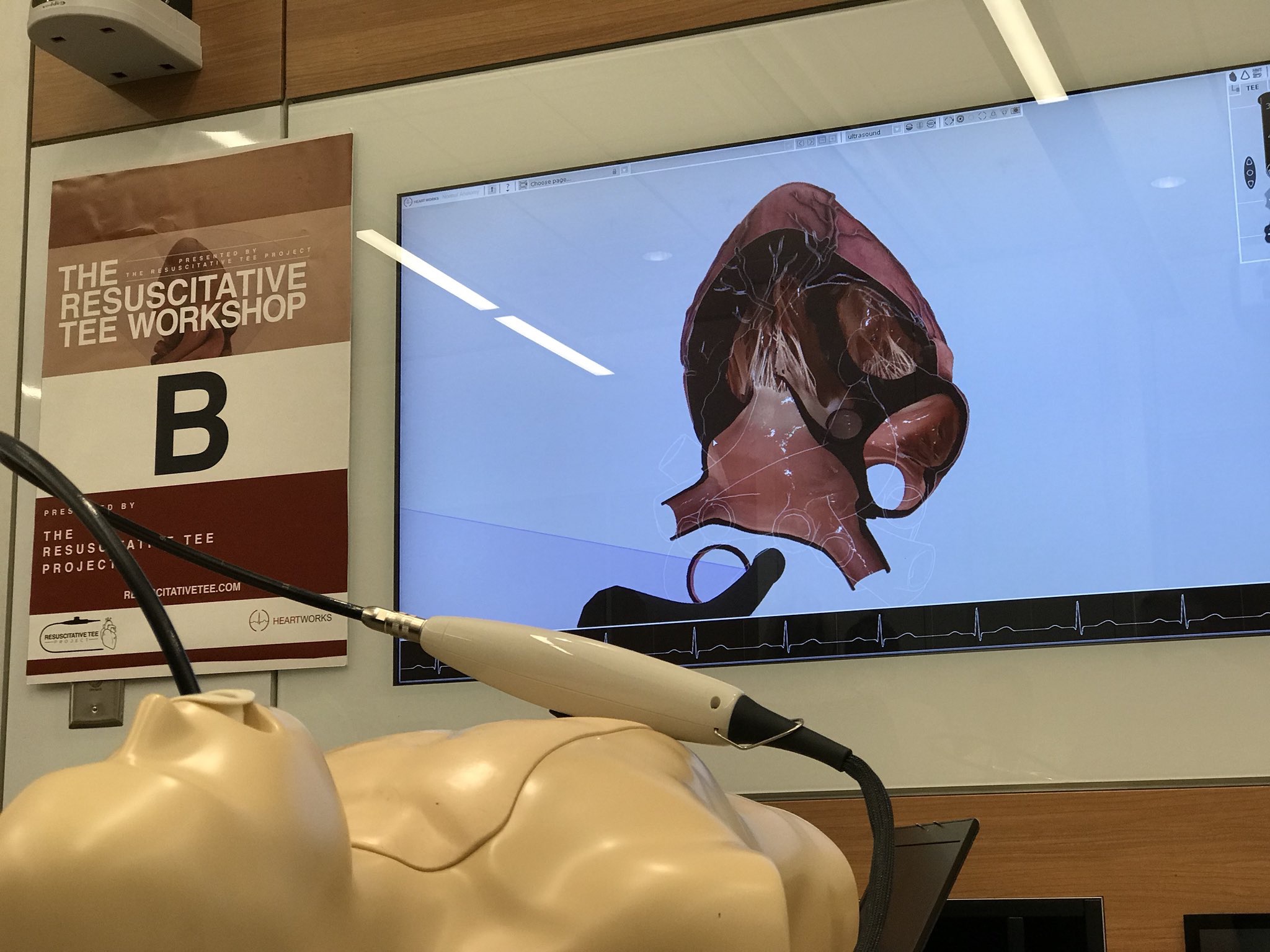 TEE Simulation Systems by HeartWorks
Teaching TEE hundreds of hours, we learnt that a key aspect for a highly efficient training experience, is to spend several hours of structured, guided practice on the high-fidelity simulator. We have partnered with HeartWorks to ensure participants are not just getting "a taste" of TEE, but actually becoming proficient at it.
Not just a "Taste" of TOE
multiple High fidelity TEE simulator systems are provided by HeartWorks.
HeartWorks eLearn
as part of the pre-workshop materials, participants receive a special student licenses for the tEE e-learn interactive platform . This will allow you to learn the basics at your own speed in order to maximize your hands-on experience at the workshop. details regarding this license following registration.
#TheResusTEEWorkshop 2019 is supported by
Course Venue*
the course will held in a private space located at:
*(For those who registered early, please note that the venue changed from the original location on Clerkenwell Road, to the location below)
15 Crinan Street, Kings Cross, London, N1 9SQ, London, UK, United Kingdom
GOOGLE MAP LINK: HERE
STREET VIEW LINK: HERE
ABOUT THE WORKSHOP VENUE
LOCATED less than 5 minutes to King's Cross station and just moments away from the galleries, bars and restaurants around Granary Square. The SPACE is located on the third floor of a converted warehouse and is flooded with natural light.
PRE COURSE MATERIALS
FIND PRE WORKSHOP MATERIALS HERE

General Registration USD $795
*PLUS ONLINE PROCESSING FEE
PLEASE SEE CANCELLATION POLICY HERE
note for emcrit folks: discount code will apply when the registration form is filled out - discount will appear before entering payment information